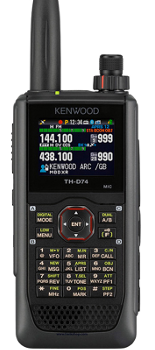 The Kenwood TH-D74 is a 144/430 MHz dual band digital handheld transceiver. The transceiver is equipped with a 66 channel GPS receiver and supports APRS functionality at both 1200 and 9600 bps. It also provides Dual Watch, Dual Monitor, GPS Logging and DStar digital mode.
In testing with the TH-D74, we learned that the HT resets the message sequence number on each power cycle. Messages with the same sequence numbers within a 24 hour period will be treated as duplicates. Kenwood has released a firmware update that rectifies this issue.
Sending a Message
From the main screen, press the (F) followed by NEW (The 4 key)
Enter the callsign
Enter the message
Press A/B to send the message
Receiving a Message
When a message is received from SMSGTE, in can be viewed from the message list. To view the message, use the following steps:
From the main screen, MSG (the 4 key)
Push up or down on the Multi-Scroll key toi select a message then press Enter.
Notes
If you are replying to the last message received from SMSGTE, it is not necessary to enter the telephone number or alias, just enter your message and send as long as it has been less than 12 hours since you received the message.